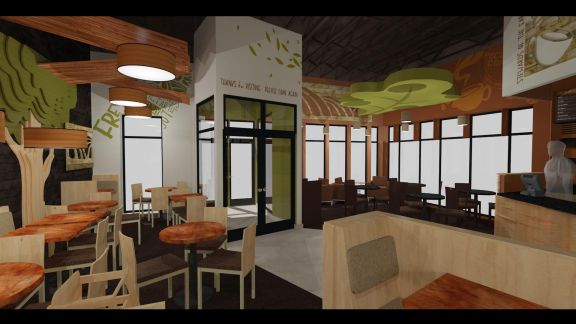 Email this Page
Tweet
Fresh Farms Cafe Interior
Date: Thu, Sep 6th, 2012
Total Image Graphics recently joined the Fresh Farms Café team to help develop the concept nationwide. TIG is contracted to develop all branding materials, website and interior designs of this up and coming corporate restaurant. Fresh Farms Café prides itself on its contribution to a greener America. In conjunction, TIG is utilizing local recycled materials for its graphic and interior design elements. We are currently working on designs in Maryland, Virginia and Pennsylvania.
About Fresh Farms Café:
Fresh Farms sandwiches are made to order with fresh, flavorful and local ingredients nestled in our signature flatbreads, wraps, brioche rolls and panini breads. With over forty sandwiches to choose from, we know you'll find a great one that becomes your favorite. But we're not just about unique and creative sandwiches. Our distinctive menu offerings also include a wide variety of fresh and healthy salads, personal flatbread pizzas, hand-pattied Angus burgers, soups made right in our own kitchens, a delicious breakfast menu (including our famous breakfast Waffler sandwich), unique gourmet beverages and delectable desserts. Something for everyone to enjoy every day, any time of day.
Back